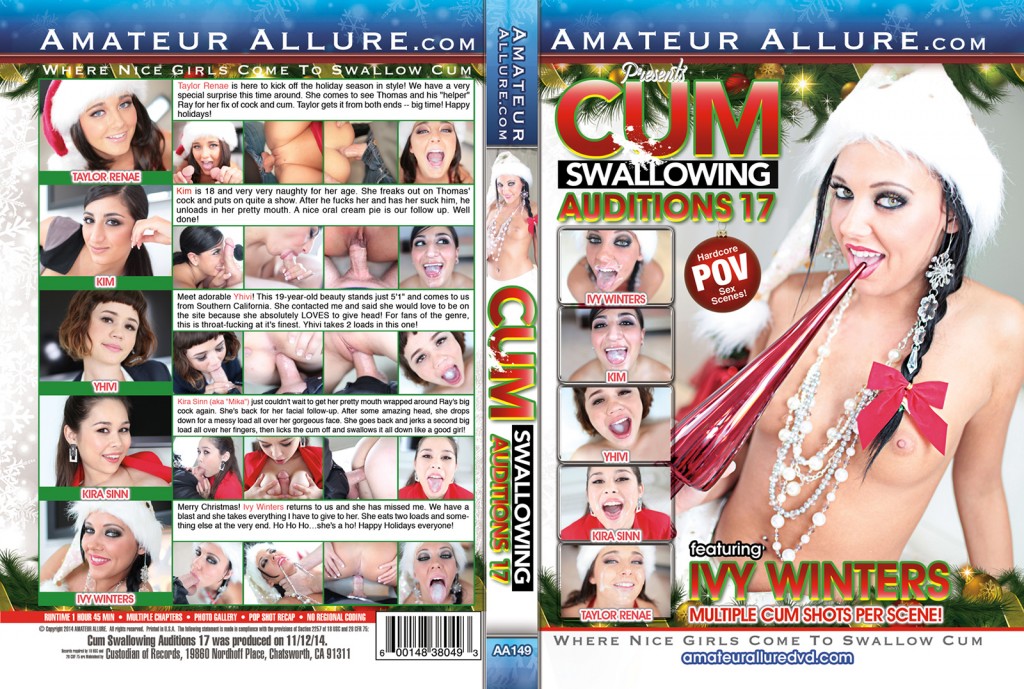 "Cum Swallowing Auditions 17" features: Kira Sinn, Ivy Winters, Taylor Renae, Kim, Yhivi
Taylor Renae is here to kick off the holiday season in style! We have a very special surprise this time around. She comes to see Thomas and his "helper" Ray for her fix of cock and cum. Taylor gets it from both ends — big time! Happy holidays!
Kim is 18 and very very naughty for her age. She freaks out on Thomas' cock and puts on quite a show. After he fucks her and has her suck him, he unloads in her pretty mouth. A nice oral cream pie is our follow up. Well done!
Meet adorable Yhivi! This 19-year-old beauty stands just 5'1″ and comes to us from Southern California. She contacted me and said she would love to be on the site because she absolutely LOVES to give head! For fans of the genre, this is throat-fucking at it's finest. Yhivi takes 2 loads in this one!
Kira Sinn (aka "Mika") just couldn't wait to get her pretty mouth wrapped around Ray's big cock again. She's back for her facial follow-up. After some amazing head, she drops down for a messy load all over her gorgeous face. She goes back and jerks a second big load all over her fingers, then licks the cum off and swallows it all down like a good girl!
Merry Christmas! Ivy Winters Returns to us and she has missed me. We have a blast and she takes everything I have to give to her. She eats two loads and something else at the very end. Ho Ho Ho… she's a ho! Happy Holidays everyone!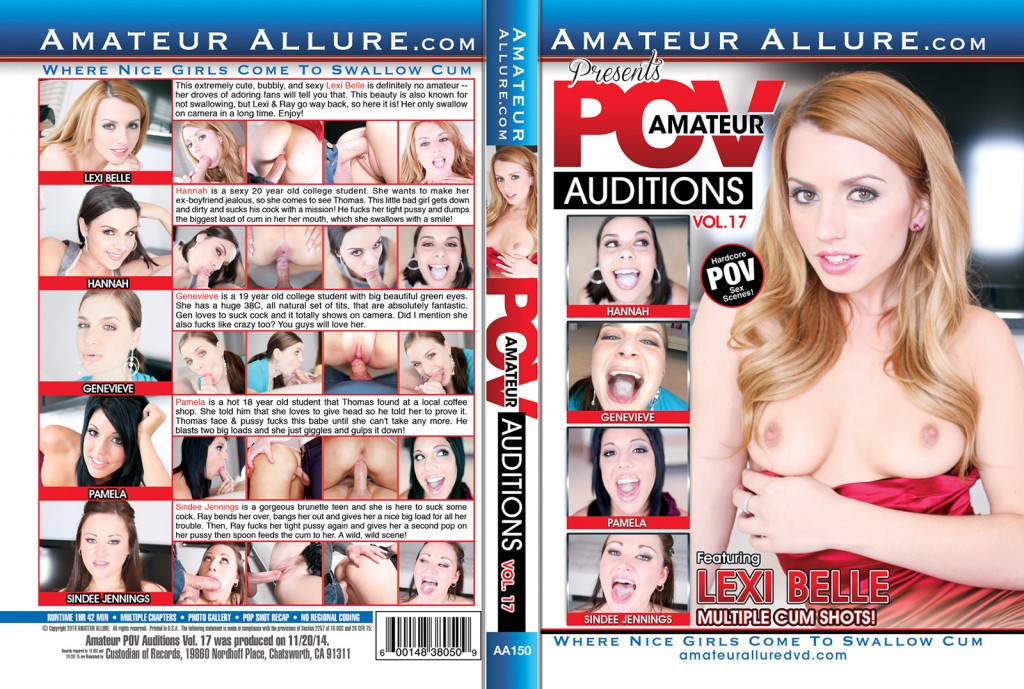 "Amateur POV Auditions 17" features: Lexi Belle, Hannah, Genevieve, Pamela, Sindee Jennings
This extremely cute, bubbly, and sexy Lexi Belle is definitely no amateur — her droves of adoring fans will tell you that. This beauty is also known for not swallowing, but Lexi & Ray go way back, so here it is! Her only swallow on camera in a long time. Enjoy!
Hannah is a sexy 20 year old college student. She wants to make her ex-boyfriend jealous, so she comes to see Thomas. This little bad girl gets down and dirty and sucks his cock with a mission! He fucks her tight pussy and dumps the biggest load of cum in her her mouth, which she swallows with a smile!
Genevieve is a 19 year old college student with big beautiful green eyes. She has a huge 38C, all natural set of tits, that are absolutely fantastic. Gen loves to suck cock and it totally shows on camera. Did I mention she also fucks like crazy too? You guys will love her.
Pamela is a hot 18 year old student that Thomas found at a local coffee shop. She told him that she loves to give head so he told her to prove it. Thomas face & pussy fucks this babe until she can't take any more. He blasts two big loads and she just giggles and gulps it down!
Sindee Jennings is a gorgeous brunette teen and she is here to suck some cock. Ray bends her over, bangs her out and gives her a nice big load for all her trouble. Then, Ray fucks her tight pussy again and gives her a second pop on her pussy then spoon feeds the cum to her. A wild, wild scene!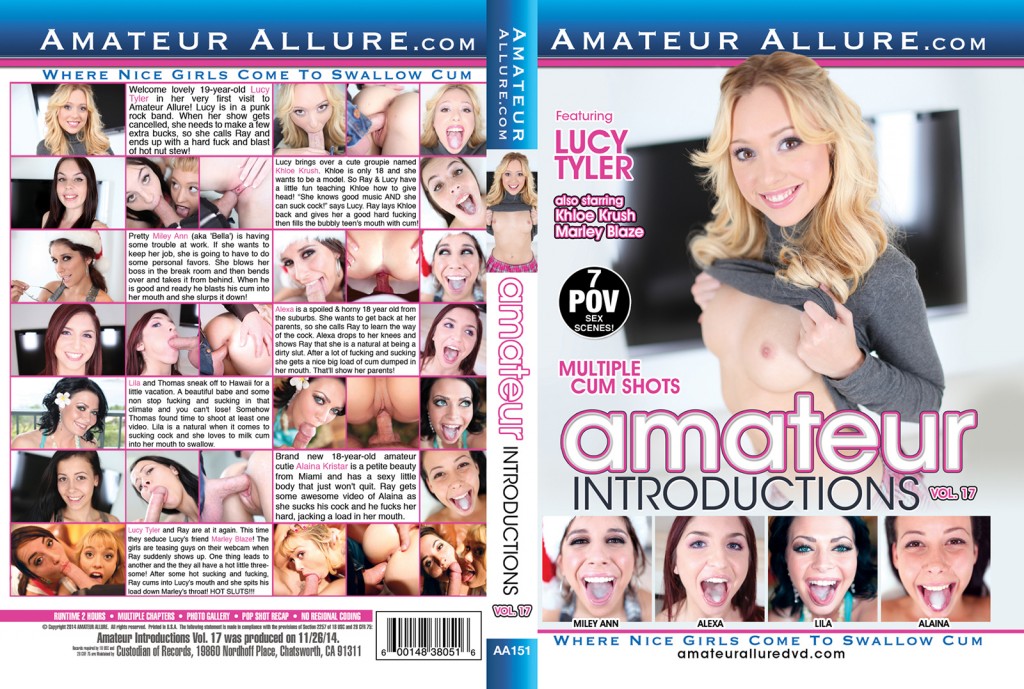 "Amateur Introductions 17" features: Lila, Alexa, Lucy Tyler, Miley Ann, Alaina Cristal, Marley Blaze, Khloe Krush
Welcome lovely 19-year-old Lucy Tyler in her very first visit to Amateur Allure! Lucy is in a punk rock band. When her show gets cancelled, she needs to make a few extra bucks, so she calls Ray and ends up with a hard fuck and blast of hot nut stew!
Lucy brings over a cute groupie named Khloe Krush. Khloe is only 18 and she wants to be a model. So Ray & Lucy have a little fun teaching Khloe how to give head! "She knows good music AND she can suck cock!" says Lucy. Ray lays Khloe back and gives her a good hard fucking then fills the bubbly teen's mouth with cum!
Pretty Miley Ann (aka 'Bella') is having some trouble at work. If she wants to keep her job, she is going to have to do some personal favors. She blows her boss in the break room and then bends over and takes it from behind. When he is good and ready he blasts his cum into her mouth and she slurps it down!
Alexa is a spoiled & horny 18 year old from the suburbs. She wants to get back at her parents, so she calls Ray to learn the way of the cock. Alexa drops to her knees and shows Ray that she is a natural at being a dirty slut. After a lot of fucking and sucking she gets a nice big load of cum dumped in her mouth. That'll show her parents!
Lila and Thomas sneak off to Hawaii for a little vacation. A beautiful babe and some non stop fucking and sucking in that climate and you can't lose! Somehow Thomas found time to shoot at least one video. Lila is a natural when it comes to sucking cock and she loves to milk cum into her mouth to swallow.
Brand new 18-year-old amateur cutie Alaina Kristar is a petite beauty from Miami and has a sexy little body that just won't quit. Ray gets some awesome video of Alaina as she sucks his cock and he fucks her hard, jacking a load in her mouth.
Lucy Tyler and Ray are at it again. This time they seduce Lucy's friend Marley Blaze! The girls are teasing guys on their webcam when Ray suddenly shows up. One thing leads to another and the they all have a hot little threesome! After some hot sucking and fucking, Ray cums into Lucy's mouth and she spits his load down Marley's throat! HOT SLUTS!!!