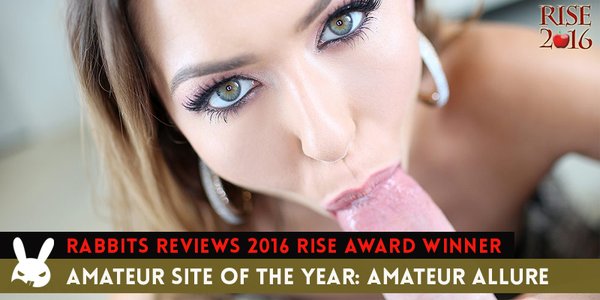 Rabbits Reviews has awarded AmateurAllure.com 'Amateur Site of the Year' for 2016.
RabbitsReviews Innovation and Site Excellence Innovation and Site Excellence (RISE) Awards were first handed out in 2010. As the world'€™s leading porn review site, having produced the largest selection of honest porn site reviews since 2003, RabbitsReviews knows that ranking sites by any single criteria may not serve every individual equally. Considering that, RISE Awards have two main goals:
To explore questions we reckon our users wants answers to and come up with a consensus among the pool of talented and experienced porn reviewers RabbitsReviews has on staff.
To highlight some of the incredible work that'€™s going on in the industry by passionate professionals who strive to create a satisfying experience for their fans.
Those goals are why RISE Awards were created.
A big THANK YOU to RabbitsReviews for the award!