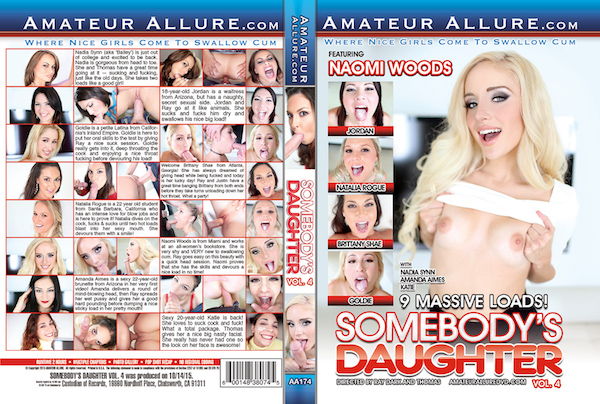 Release date: November 19, 2015
Featuring: Natalia Rogue, Nadia Synn, Katie, Naomi Woods, Jordan, Brittany Shae, Goldie, Amanda Aimes
Where Nice Girls Come To Swallow Cum
Including 9 Creamy Loads!
Nadia Synn (aka 'Bailey') is just out of college and excited to be back. Nadia is gorgeous from head to toe. She and Thomas have a great time going at it — sucking and fucking, just like the old days. She takes two loads like a good girl!
18-year-old Jordan is a waitress from Arizona, but has a naughty, secret sexual side. Jordan and Ray go at it like animals. She sucks and fucks him dry and swallows his nice big load!
Goldie is a petite Latina from California's Inland Empire. Goldie is here to put her oral skills to the test by giving Ray a nice suck session. Goldie really gets into it, deep throating the cock and enjoying a nice throat fucking before devouring his load!
Welcome Brittany Shae from Atlanta, Georgia! She has always dreamed of giving head while being fucked and today is her lucky day! Ray and Justin have a great time banging Brittany from both ends before they take turns unloading down her hot throat. What a party!
Natalia Rogue is a 22 year old student from Santa Barbara, California who has an intense love for blow jobs and is here to prove it! Natalia dives on the cock, fucks & sucks until two hot loads blast into her sexy mouth. She devours them with a smile!
Naomi Woods is from Miami and works at an all-women's bookstore. She is very shy and VERY new to swallowing cum. Ray goes easy on this beauty with a quick head session. Naomi proves that she has the skills and devours a nice load in no time!
Amanda Aimes is a sexy 22-year-old brunette from Arizona in her very first video! Amanda delivers a round of mind-blowing head, then Ray spreads her wet pussy and gives her a good hard pounding before dumping a nice sticky load in her pretty mouth!
Sexy 20-year-old Katie is back! She loves to suck cock and fuck! What a total package. Thomas gives her a nice big nasty facial. She really has never had one so the look on her face is awesome!