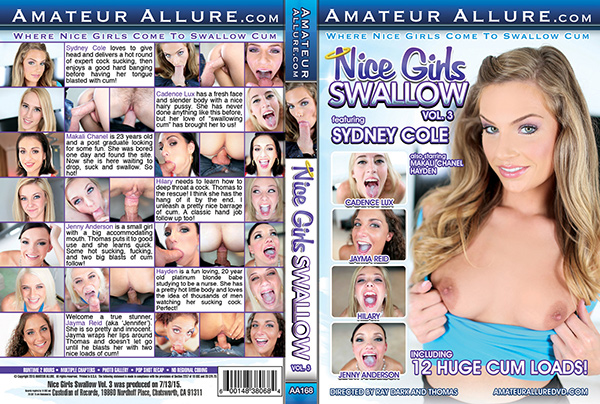 Featuring: Sydney Cole, Cadence Lux, Mikali Chanel, Hilary, Jenny Anderson, Hayden, Jayma Reid
"Where Nice Girls Come To Swallow Cum"
Featuring 12 Huge Cum Loads!
Sydney Cole loves to give head and delivers a hot round of expert cock sucking, then enjoys a good hard banging before having her tongue blasted with cum!
Cadence Lux has a fresh face and slender body with a nice hairy pussy. She has never done anything like this before, but her love of "swallowing cum" has brought her to us!
Makali Chanel is 23 years old and a post graduate looking for some fun. She was bored one day and found the site. Now she is here waiting to drop, suck and swallow. So hot!
Hilary needs to learn how to deep throat a cock. Thomas to the rescue! I think she has the hang of it by the end. I unleash a pretty nice barrage of cum. A classic hand job follow up too!
Jenny Anderson is a small girl with a big accommodating mouth. Thomas puts it to good use and she learns quick. Some hot sucking, fucking, and two big blasts of cum follow!
Hayden is a fun loving, 20 year old platinum blonde babe studying to be a nurse. She has a pretty hot little body and loves the idea of thousands of men watching her sucking cock. Perfect!
Welcome a true stunner, Jayma Reid (aka 'Jennifer'). She is so pretty and innocent. Jayma wraps her lips around Thomas and doesn't let go until he blasts her with two nice loads of cum!