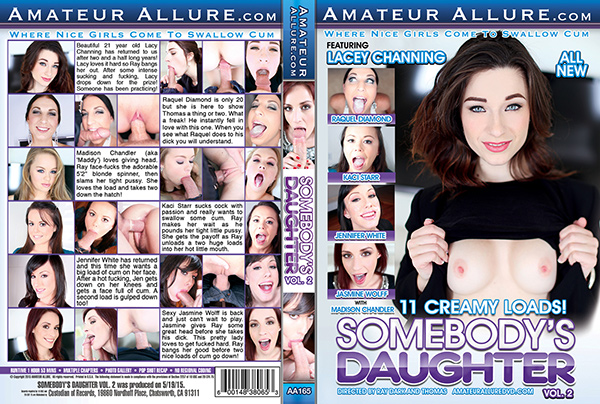 Featuring: Lacy Channing, Kaci Starr, Jasmine Wolff, Jennifer White, Raquel Diamond, Madison Chandler
"Where Nice Girls Come To Swallow Cum" — Including 11 Creamy Loads!
Beautiful 21 year old Lacy Channing has returned to us after two and a half long years! Lacy loves it hard so Ray bangs her out. After some intense sucking and fucking, Lacy drops down for the prize! Someone has been practicing! 🙂
Raquel Diamond is only 20 but she is here to show Thomas a thing or two. What a freak! He instantly fell in love with this one. When you see what Raquel does to his dick you will understand.
Madison Chandler (aka 'Maddy') loves giving head. Ray face-fucks the adorable 5'2″ blonde spinner, then slams her tight pussy. She loves the load and takes two down the hatch!
Kaci Starr sucks cock with passion and really wants to swallow some cum. Ray makes her wait as he pounds her tight little pussy. She gets the payoff as Ray unloads a two huge loads into her hot little mouth.
Jennifer White has returned and this time she wants a big load of cum on her face. After a hot fucking, Jen gets down on her knees and gets a face full of cum. A second load is gulped down too!
Sexy Jasmine Woff is back and just can't wait to play. Jasmine gives Ray some great head before she takes his dick. This pretty lady loves to get fucked hard. Ray bangs her good before two nice loads of cum go down!